Through an experienced multidisciplinary team (MDT) that encompasses diagnosis, management and research, St Vincent's Private Hospital Sydney is striving to be a centre of excellence for pituitary services.
A small but significant part of the body, the pituitary gland sits at the base of your brain, just above the inside of your nose. Often referred to as the 'master gland', the pituitary gland not only creates hormones that affect the way parts of the body operate, but it also regulates the hormone production of other glands in the body – and it's no bigger than the size of a pea.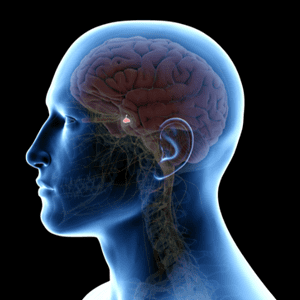 St Vincent's Private Hospital has performed around 60 pituitary surgeries per year.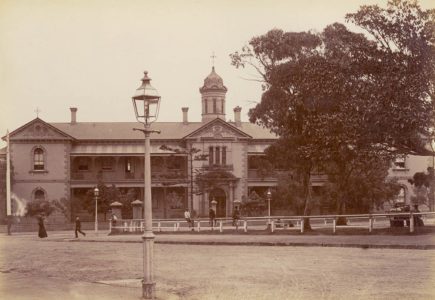 St Vincent's Private Hospital in 1933.
Pituitary services hold a unique place in the history of St Vincent's Private Hospital Sydney, as it was the first hospital in Australia to perform the removal of a pituitary tumour in 1933. Associate Professor Ann McCormack, an endocrinologist at St Vincent's Private Hospital Sydney and Head of the Hormones and Cancer Group at the Garvan Institute, says "since the first pituitary surgery performed by Sir Douglas Miller, neurosurgeons and endocrinologists at St Vincent's Private Hospital have led the way in advancing pituitary tumour management".
A pituitary condition journey often begins with an endocrinologist, a specialist in endocrine glands and hormones who manages the diagnosis and ongoing management of a pituitary condition. If surgery is required to remove a tumour, endocrinologists are also intricately involved in the peri-operative and subsequent post-operative management of pituitary tumour patients. "Just as the pituitary gland is the conductor of the hormone orchestra, the endocrinologist is central to guiding the patient's care using the expertise of the MDT", Associate Professor McCormack said.
The pituitary multidisciplinary team at St Vincent's Private Hospital Sydney also comprises of leading experts in the fields of neurosurgery and rhinology (ENT), who perform one of the highest volumes of pituitary surgeries in the country. Dr Ben Jonker, a neurosurgeon at St Vincent's Private Hospital Sydney, says the amount of pituitary surgeries performed continues to increase.
"We perform around 60 pituitary surgeries per year, and that number is growing. We are fortunate to work collaboratively in a multidisciplinary team, which enhances patient care and provides an opportunity for us to all learn from each other's experience", Dr Jonker said.
Other vital members of the pituitary MDT include neuropathologists, who are leading an international drive to develop standardised pituitary tumour reporting, along with neuroradiologists, an ophthalmologist, radiation and medical oncologists, nursing and tumour biobank personnel.
Alongside her position at St Vincent's Private Hospital Sydney, Associate Professor Ann McCormack is also a senior staff specialist in the Department of Endocrinology at St Vincent's Hospital and holds a conjoint position at the Garvan Institute of Medical Research and The University of New South Wales. Her primary research interest is in the field of pituitary tumour biology, in particular aggressive pituitary tumours and familial pituitary tumours.
Other current research is exploring improved categorisation of pituitary tumours, including the discovery of stem cell populations within tumours, which will feed into development of a model to improve a clinician's ability to predict tumour behaviour. Other research includes examination of the genetics of a large cohort of tumours collected within the biobank, as well as characterising the tumour immune microenvironment.